Hard Clad & Silica High NA Fibers
Hard Clad & Silica High NA Fibers
SILICA/hard clad step index low OH fiber (300-2400nm) and high OH fibers (190-1200nm)
These pure fused silica/ Hard Polymer fibers are characterized by high numerical apertures for a wide range of applications from long-range lighting to photodynamic therapy. This high-quality fiber features easy termination without bulb effect and is a cost-effective alternative to quartz/quartz fibers.
We offer a selection of different types and sizes of sleeves as well as individually designed products and sizes according to your specifications.
Type of fiber

High OH (190-1200nm) Fibers

Low OH (300-2400nm) Fibers

OH content

High >700 ppm

Low <1 ppm

Core diameter (µm)

Available from 100µm to 2000µm

Numerical Aperture (NA)

0.37±0.02 | 0.48±0.02 | 0.52±0.02 | 0.57±0.02 or customised

Standard prooftest

Nylon, ETFE, Acrylate Jacket : 100 kpsi

Minimum Bending Radius

50×cladding diameter (short-term mechanical stress)
150×core diameter (during use with high laser power)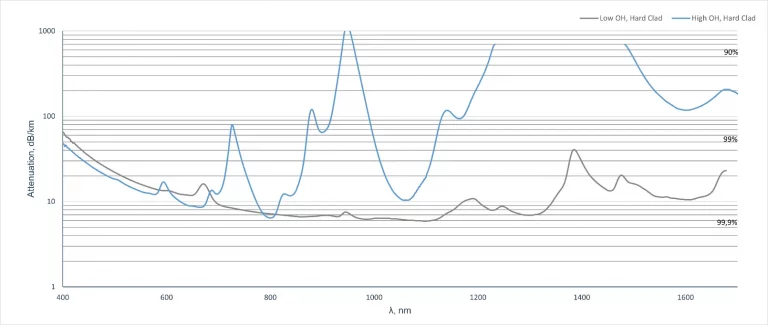 Spectroscopy
Sensors
Laser welding / soldering / marking
Laser delivery
Nuclear plasma diagnostics
Analytical instruments
Laser diode pigtailing
Pyrometry
Semiconductor capital equipment
Medical diagnostics
Laser delivery
Photodynamic Therapy
SILICA/SILICA High NA Fibers (400-2000nm)
We are proud to introduce this line of high NA Ge-Doped fused Silica/F-doped fused silica fibers. They offer unmatched performance with their 0.37 numerical aperture. Further NAs on request, options of different Buffers and Jacket on request too.
Ideal for a broad range of applications, from spectroscopy to sensing, these fibers exhibit exceptional spectral transmission from 400 – 2400 nm.
Type of fiber

Silica/Silica High NA Fibers (200-2000nm)

Core diameter (µm)

Available from 50µm to 1000µm

Core/Cladding Ratios

Standard : 1:1.1 ; Others : 1 :1.04 | 1 :1.2 | 1 :1.4 or customised

Numerical Aperture (NA)

0.37±0.02

Standard prooftest

Nylon, ETFE, Acrylate: 100 kpsi ; Polyimide: 70 kpsi

Minimum Bending Radius

50×cladding diameter (short-term mechanical stress)
150×core diameter (during use with high laser power)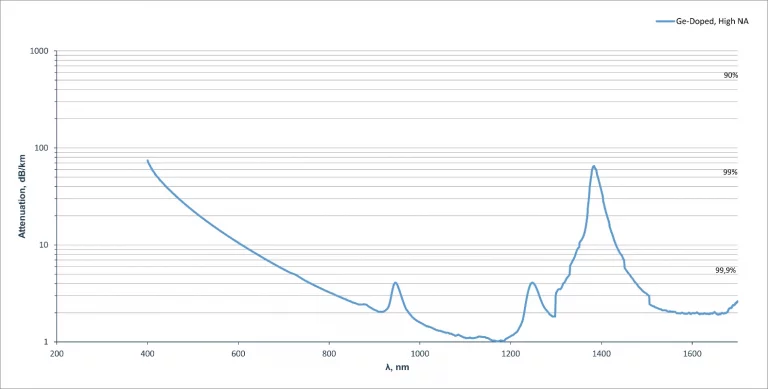 Spectroscopy
Sensors
Laser welding / soldering / marking
Laser delivery
Nuclear plasma diagnostics
Analytical instruments
Laser diode pigtailing
Pyrometry
Semiconductor capital equipment
Medical diagnostics
Laser delivery
Photodynamic Therapy