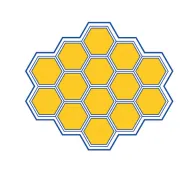 PowerLightGuide bundles with fused ends and assemblies set the standard for long-term high performance. When tested over 40,000 continuous, unfiltered hours, our PowerLightGuide bundles show consistent and stable transmission of 95% of the original input.
Traditionally, the transmission rate was limited by the NA and the packing factor in the active fiber core area. The PowerLightGuide bundles with fused ends preserve the NA of the fibers while providing a typical 50% increase in transmission. The fusing process completely eliminates inter-fiber spaces and thus positions our fused-end bundles among the most sophisticated fiber bundles on the market. As the bundles do not rely on adhesive, they are resistant to temperatures of more than +600°C, making them the first choice for demanding applications.
PowerLightGuide bundles with fused ends have a distinct advantage over liquid light guides because they offer exceptional throughput for wavelengths in the range of 190 to 2400 nm without solarization. Unlike liquid light guides, the new PowerLightGuides are available in unlimited lengths and do not leak or lose quality over time.
Our ability to integrate high NA, fused ends, and other technologies allows bundle transmission to typically be 50% higher than any other manufacturer of silica UV fiber products.
High transmission
No inter-fiber spaces
Large active diameter
Wide range of ready-to-use assemblies available
Long service life
Even distribution in multi-branch bundles
High temperature resistance above +600°C
Replacement for UV Liquid Light Guides
Spectroscopy
Sensors
Photolithography
Laser welding / soldering / marking
Laser delivery
Nuclear plasma diagnostics
Analytical instruments
Laser diode pigtailing
Pyrometry
Semiconductor capital equipment
Illumination and Monitoring
Curing
Super High Temperature Applications
Medical diagnostics
Laser delivery
Photodynamic Therapy
Medical Treatments such as UV Psoriasis Treatment